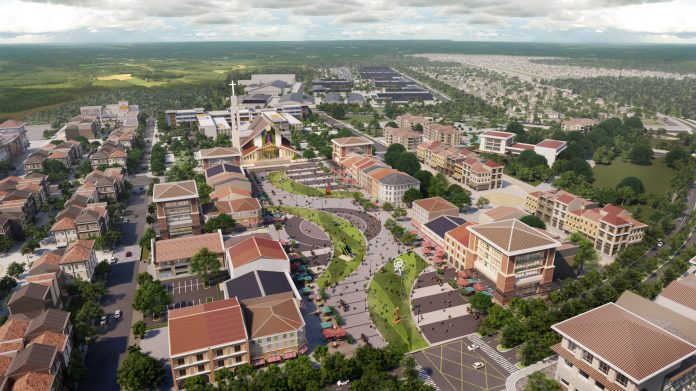 A small town replicating Tarlac City's downtown will soon rise at a 290-hectare property called Cresendo, Ayala Land Inc.'s first estate in Tarlac province and the third north of Metro Manila.
John Estacio, Cresendo estate head, the concept fulfills the need for a newer, more modern and organized community that would complement Tanedo, the center of business and commerce of the town.
Cresendo mirrors the comfort, familiarity and charm of local living in a a small town while offering the efficiency of a well-planned community.
Estacio said ALI is investing P18 billion for the project; with the first P5.5 billion to be spent within a five-year period or roughly P1 billion a year.
Estacio said Cresendo will have the same-sized, same-mix población or bayan resembling the one of F. Tanedo street , the center of business and commerce of the city.
This 30-hectare urban core comprised of a 1.5-hectare urban core composed of a central plaza, school, commercial center, and a church.
The Cresendo River Terraces will serve as the convergence point with its landscaped gardens, jogging paths and viewing deck. It will also serve as the estate's detention pond.
Surrounding the Cresendo central plaza will be a commercial district made up of low-rise commercial buildings ranging from 500 square meters (sq.m.) to 2,000 sq.m. The smaller commercial lots or shophouses, are ideal for homegrown small and medium enterprises.
These can accommodate living spaces Business owners or employees can live right above their stores, service shops, training centers or processing centers.
The development will have a 32-hectare Cresendo Industrial Park (CIP) with lot sizes ranging from 1,200 sq.m. to 10,000 sqm for sale at P6,000 to P9,000 per sq.m. This will be open to locators in light to medium, non-polluting industries by 2022.
In full swing, the industrial park is expected to generate approximately 2,000 jobs.
CIP is ideal for manufacturing, logistics, warehousing and standard factory buildings.
To date, confirmed locators are a logistics company, a manufacturing company and a distribution center,
Don Bosco Technical Institute will open a senior high school in Cresendo, followed by its Technical Vocational Education and Training Center. The institution will be the first of its kind in Tarlac, accommodating about 5,000 students.
There will be residential developments around the area with ALI residential brand Avida Land the first to build on the estate.
A 1.5-kilometer greenway leads from the central plaza all the way to the 7-hectare River Terraces near the residential areas.
As in other Ayala estates, Cresendo is replete with sustainable features: the 1.5-kilometer greenway, dedicated pedestrian lanes and bike lanes, roads lined with trees, three-meter wide sidewalks and arcaded walkways, pocket parks and pedestrian promenades, the Cresendo River Terraces' landscaped gardens, jogging paths and viewing deck.
Cresendo is located in Barangay
Central near the Subic-Clark-Tarlac Expressway (SCTEX) and MacArthur Highway. It will be accessible through the Tarlac–Pangasinan–La Union Expressway and SCTEX, as well as future infrastructure project Central Luzon Link Expressway . Nearby landmarks include the Aquino Museum.
"Tarlac City is a next wave city that benefits from a number of government infrastructure projects. It has a young and growing population and it also lies in the main transport corridors from Manila to Northern and Central Luzon," said Estacio.
"Based on ALI's long experience in developing integrated, mixed-use estates, Cresendo will create an environment that will help drive opportunities for education, employment and enterprise in this area," he added.

Source: Malaya Business Insight